is one of my favorite days of the year!
my dad's side of the family started a new tradition this year, lunch -yummy!
my aunt had us all over in her new apartment & it looked beautiful!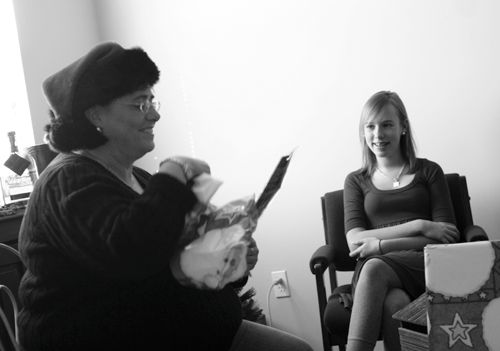 my dad got a new fancy watch! & golf clubs... he's quite the golfer.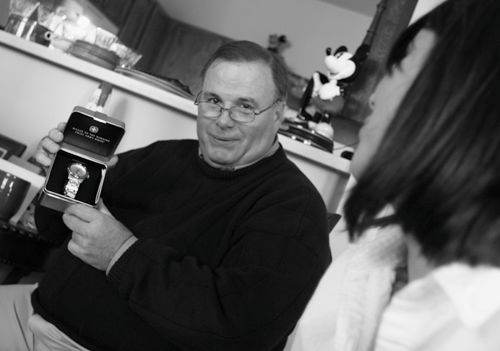 our latest family photo! we are missing two of dad's brothers & their families.
one day we'll all be in the same place at the same time :)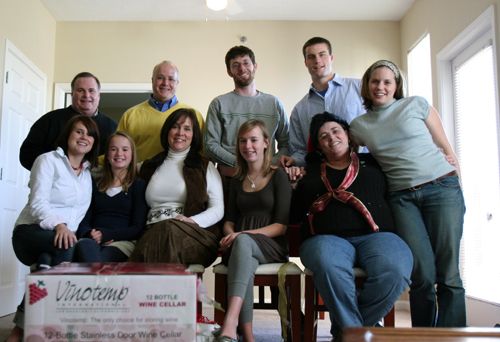 dad & his girls. they call him tickle monster... when they were younger
they'd run away screaming everytime he walked in the room.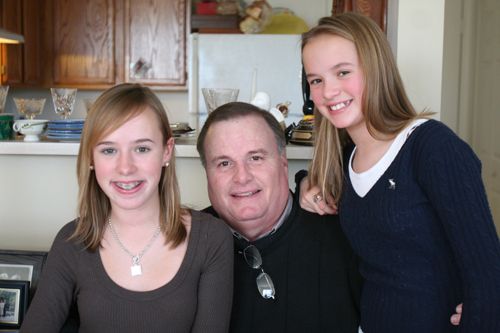 all the cousins in louisville. we are missing michelle, beth & carrie, who
live in florida. rachel, our youngest, lives in texas.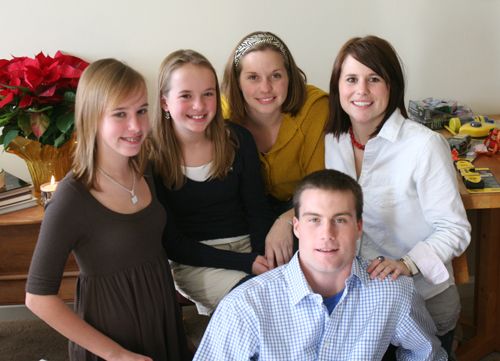 we have a new resch -my cousin, beth, just had her second baby boy!!
aaron was 7lbs & perfect. congratulations beth & shannon! that makes
4 great grandkids!
then christmas eve gets a little harder. bryan & i started splitting christmas
eve last year. our mother's families do the exact same thing- 5:30pm mass,
dinner & then presents. so this year we did mass with my family, dinner &
presents with his & then headed over to my families party. we walked in a
few minutes before santa!!
here's a few with his family- evelyn was the spotlight of course.
she loved being in the center of all that wrapping paper.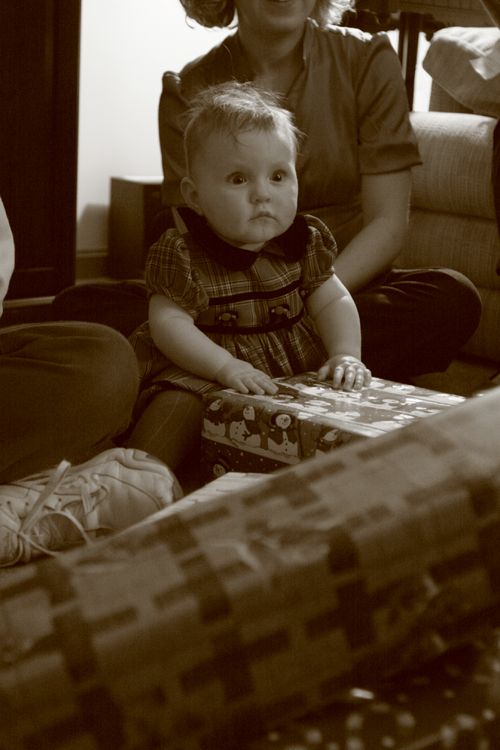 who loves evelyn? we do!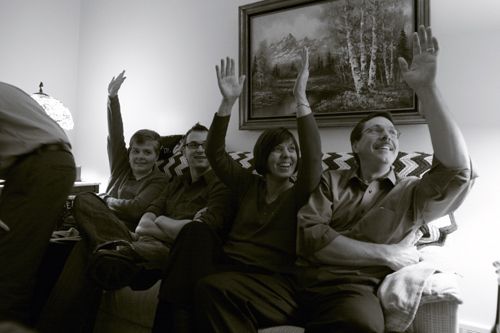 & then we headed to my fam's...
now i need to warn you that some of these pictures are a little silly. my family
is wild & crazy & uncontrollable. i do not apologize for them, i only love &
appreciate them for all their eccentricities!
each cousin has to sit on santa's lap & the boys
have
to kiss him. bryan loves it!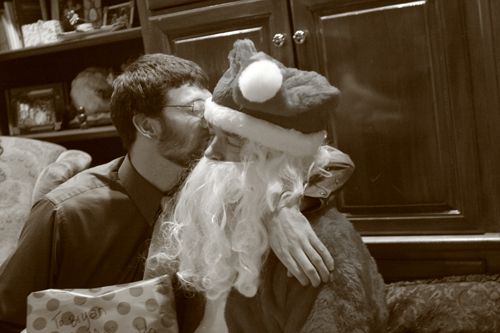 after we all get our presents (all 30 of us) the moms take their turn with santa.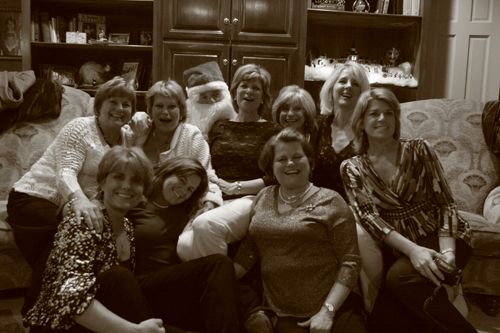 my mom got my brother, sister & i animal earphones. they are also earmuffs.
she's such a thinker! i'm sure my sister is loving wearin' them in the
new york subway!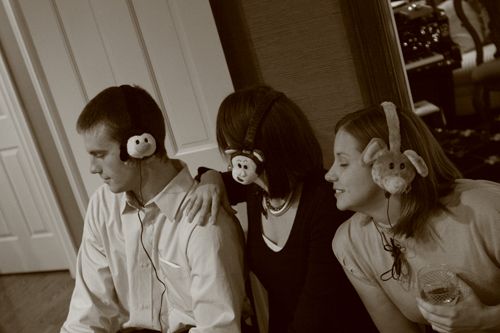 then, it's the parents turn. they each draw a name & have to come up with
a great gag gift for the individual & $50 to a charity, which i
think is a great idea.
my uncle ted owns phlen's bakery, a staple of louisville! yum. chocolate
donuts. his gag gift was this apron(appropriate!) with his face on some
hunk's bod.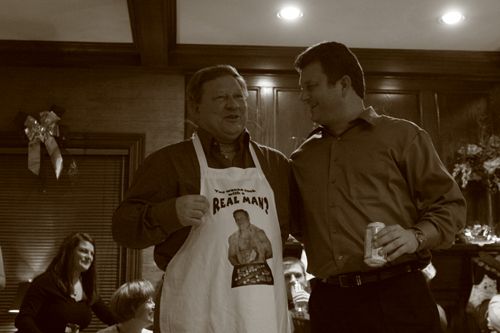 my aunt cathy is going back to school to be a therapist- so she got some
huge glasses & the movie analyze this with her head pasted on it.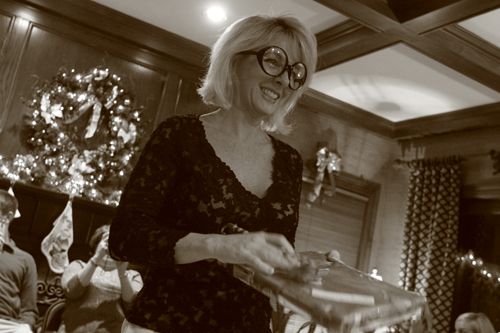 my aunt rita, uncle tom & their two daughters erin & jess stay with us
every christmas. i love having them in the house. since tom is always
surrounded by the women in his life- my mom got him a princess set,
tiara, earrings & a wand. tehee. he's also "santa" every year- so i think
he enjoys dressing up.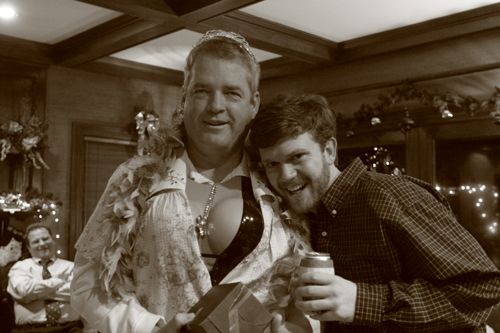 the crowd loved it!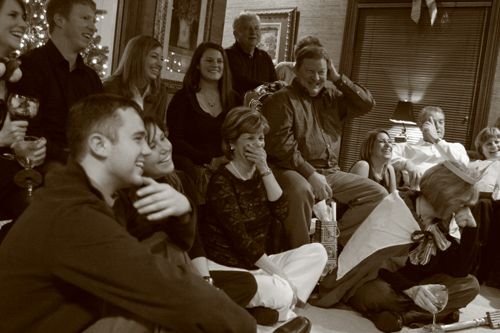 there was a white coat theme this year.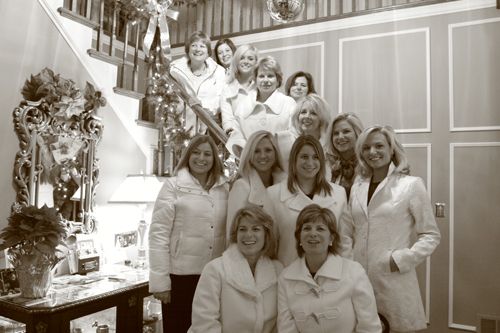 early in the morning after opening presents...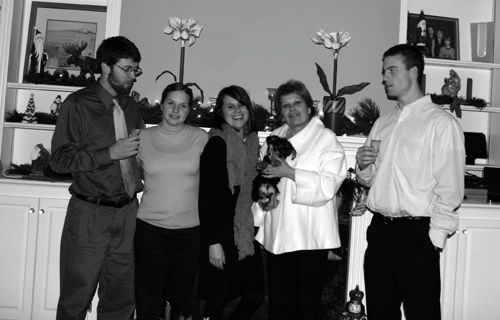 my favorite present this year? hands down... the salsa dancing lessons :)
thanks babe.
what a great christmas!