i have a few free hours before i leave for the rehearsal dinner & then right
after that some of my work from my honduras trip is being displayed tonight
at "last friday" at cartel coffee house. if you're in phx you need to check this
place out. i love it. small, locally owned & unique. come on by if you're in the
mood for coffee & art.
so... here is some more of vegas.
the trade show was overwhelming- people handing you pamplets & showing
you their product... goodness i'm proud of myself for not going over board!
i did very well resisting & everything i couldn't resist is already paid off :)
i've decided on three album companies:
fin.a.o & cotoure &
cypress, i loved the pages in this album... it showed off the images really well!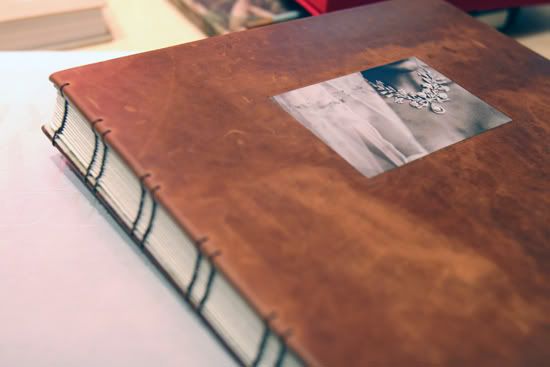 i spent some time at the canon counter slobbering over some lens & the 5d.
i'm predicting that by mid-summer i'll have one of those puppies. i'm actually
getting a delivery from b&h my favorite camera equipment supplier today!!!
some new lighting equipment that i'm really excited to play with at tomorrow's
wedding!
yeah monika & josiah, it's finally here!!!
so back to vegas, monday night i went to the giveaway gala in hopes of meeting
up with kim jarman & jennifer bowen, but they were on their way out to another
party... so i decided to be brave & stay for awhile longer... solo. it was awkward at
first & then my knight in shining armor appeared: lisa on the far right!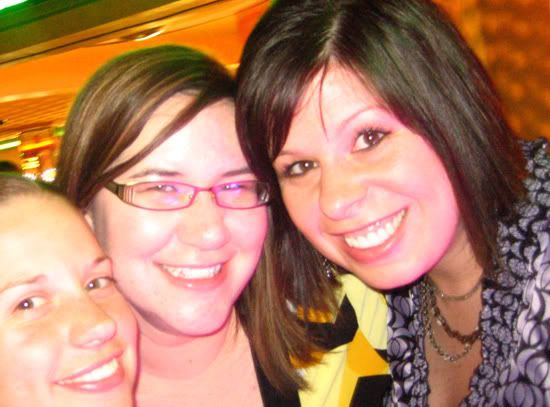 she struck up a conversation with me & we hit if off right away. she's way up
in the northeast otherwise i think we'd hang out all the time. you can check out her
work
here
.
the infamous
anne ruthmann
is being sandwiched, who is also fabulous.
she was at the leavin-las-vegas shoot too.
anyways, lisa and i ended up staying out with some of her friends until
4:30am, finishing the lovely evening with some french toast!
because of that one conversation with lisa, i ran into one of the guys, regis
, from the
night before & he invited me to dinner with another whole slew of really cool people.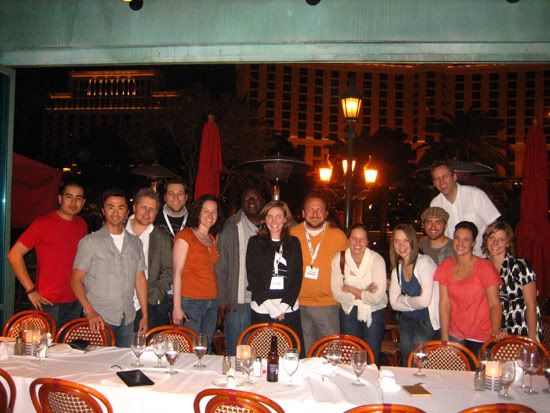 sometimes it's worthwhile to put yourself in situations that aren't comfy.
i would never have met:
regis from
regisphotography
nate & amanda reynolds from
turtlepondphotography
chris & katie torres from
6 of four creations
jennifer odom of
dove wedding photography
garrett nudd of
garrett nudd photography
sticky of
brandyj
sara speert of
saraphotography.com
melody of
carpenter photography
jason from
jasonaromond
shelly from
shellyvalentinephoto
shuweee! so many talented young artists in one place was amazing.
okay. now i need to start getting ready. so i'm leaving this post a little
earlier than planned. i have one more section to go up & then vegas will
be behind me :)~
check back soon for the pics from the last night in vegas, the wedding i
was able to second shoot for kim jarman & moni & josiah's wedding
tomorrow!
hope you have a great weekend!